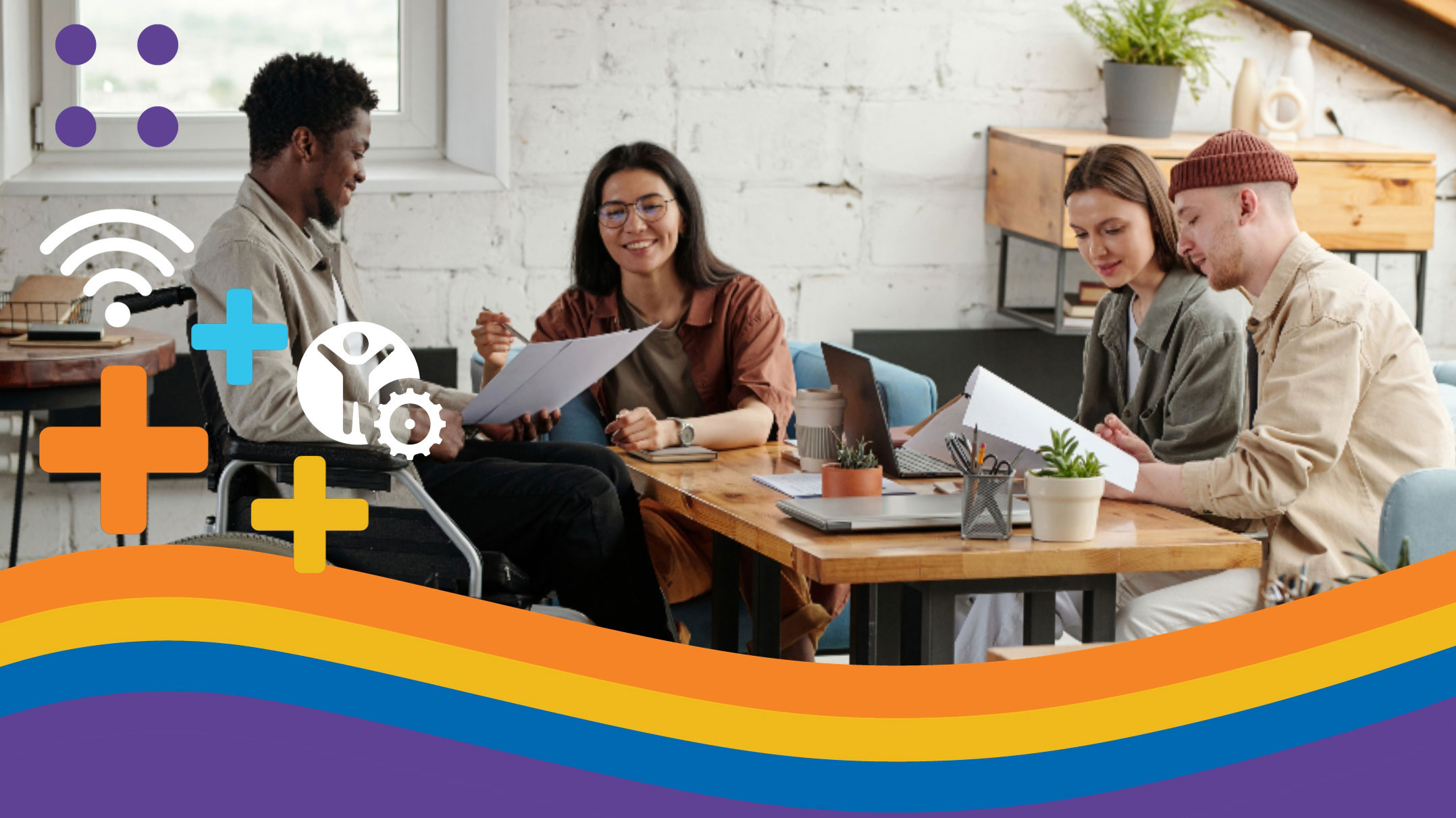 Items in The Accessibility Library can be borrowed from our partners to make events accessible. To borrow items, you can begin with an event audit to establish a team to assist in planning your event or select items.
Main Library
Items in the collection include hammock chairs, sensory bags, and noise-canceling headphones. Click here for a full listing of items available in The Accessibility Library.

All items can be picked up from the Culture & AV Division or Main Library Drive-Through Window on High St.
Advancing Independence Network
The goal of the Loan Closet is to serve individuals with disability to meet short-term need for durable medical equipment. Our Loan Closet depends on the generosity of donors of durable medical equipment such as wheelchairs, rollators, and portable ramps.
Portable Card Table for Inclusive Events
Elevate your inclusive gatherings with this 29.5-inch-high Folding Card Desk. With a tabletop size of 38.5 × 38.5 inches, this versatile black resin table enhances accessibility, accommodating wheelchairs comfortably. Its anti-pinch locking system ensures easy, safe setup, while non-damaging leg tips protect floors. When the event concludes, fold it in half and use the handle for effortless transport and storage.
Versatile Room Divider for Accessibility
Create inclusive spaces effortlessly with this 102"W x 71"H Room Divider. Whether you're planning a small or large event, indoor or out, this freestanding structure offers a portable solution when creating sensory spaces or privacy areas. Enhance accessibility in any environment with this versatile and easy-to-use balcony privacy screen. Tip: To increase stability, consider adding canopy weight bags. (Not available through the Accessibility Library)
Williams Sound FM ADA Kit
Provides everything you need to accommodate individuals for hearing accessibility in large venues such as auditoriums and theaters. Range of up to 1,000 feet. Meets 2010 ADA accessibility guidelines. Includes: (1) PPA T27 transmitter, (2) PPA R37 receivers, (2) BAT 001-2 AA alkaline batteries, (2) EAR 013 single mini earbuds, (2) NKL 001 neckloops, (1) IDP 008 ADA wall plaque, (1) ANT 021 Antenna and (1) TFP 036 Power Supply
Full HD 7-inch Portable Digital Video Magnifier
This reading tool can meet the needs of different groups of people, especially people with low vision, color blindness and amblyopia, so that the eyes can get an excellent visual experience.
10-Person Assistive Listening System
4-channel digital FM transmitter with 500ft range (Expandable up to 1000 ft with extended antenna). FCC and IC Approved for legal use in the USA and Canada. Multiple carrying options included: belt clip, Velcro armband, neck strap. Receivers use 2 AAA batteries lasting up to 55 hours of audio time.
Handicap Parking Only Floor Signs (4-pack)
Reserve handicap parking spaces for your customers, patrons, and employees with these plastic, fold-out handicap parking only signs. Dimensions: 24"L x 11.75"W.
Portable Pop-Up Blackout Sensory Tent
The blackout sensory tent is a safe, non-psychologically stimulating environment that provides children with a safe, fully enclosed space to relax, allowing children with special needs to enjoy a quiet time and environment. Dimensions: 47" x 47" x 47".
Aluminum Threshold Ramp
The portable, standalone 36" Angled Entry Ramp has independently adjustable legs with swivel feet, allowing you to adjust the height from 3-5/16" to 5-7/8"; Dimensions: 36" L x 36-1/4" W; Weight: 15 lbs; Capacity: 700 lbs.
Contact the Advancing Independence Network for more information regarding their items.
---
The Accessibility Library is a strategy identified in the Akron/Summit Cultural Plan (2020) which originated with artist and advocate Alicia Hopkins. The thoughtful implementation of a process by which nonprofit community groups could access assistive technology and support items for events has been carried forward by the following organizations: