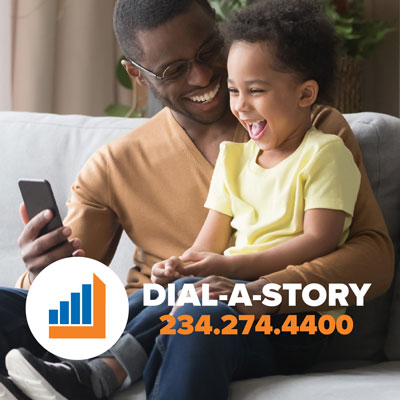 Dial-A-Story offers free pre-recorded stories, poems, riddles, and jokes read by your favorite ASCPL Staff. Call 234.274.4400 and choose the recording you would like to hear from the menu. Stop by every month to listen to something new!
"Dial-A-Story is a wonderful way for us to share the love of reading and storytelling. With a simple phone call, all ages can enjoy a story adventure together," said Lucy Carney, Manager of the Children's Library & Teen Division at Main Library. "At the same time, children will learn new vocabulary and sharpen their listening and comprehension skills, all of which contribute to greater reading proficiency. We're very excited to offer this service to our community."
Dial-A-Story Menu – recorded on 9/1/23
Groovy Joe: Ice Cream & Dinosaurs by Eric Litwin
How to Teach a Slug to Read by Susan Pearson
A Dog Named Doug by Karma Wilson
I Ain't Gonna Paint No More by Karen Beaumont
An excerpt from The Inheritance Games by Jennifer Lynn Barnes
*Please note that the first four selections are children's titles and the last one is a teen title.