---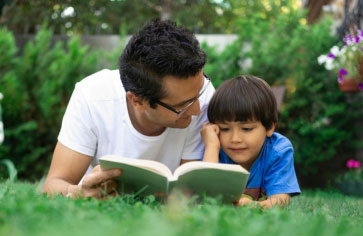 JUNE 5 – JULY 29, 2023
Make reading and exercise part of your day — every day. Brighten your spirit, stimulate your imagination, improve your health, and have fun!
Mind, Body & Sole is the annual reading and wellness experience for you to enjoy at any age. Mind, Body & Sole is an easy add to your lifestyle.
Sign up beginning June 5 at read.akronlibrary.org or at your nearest Akron-Summit County Public Library location, and receive your Mind, Body & Sole reading and exercise log. Now you're ready to get started!
From June 5 through July 29, check off each day you read on your reading log. As you reach reading milestones, you will earn fun rewards and be entered into drawings for great prizes.
On your exercise log, mark the days you participate in a movement activity — walking, bicycling, hiking, yoga, swimming, exploring, running, outside play, physical therapy, gardening, and more.
When you have reached 26 days of exercise and 26 days of reading, you will receive a Mind, Body & Sole T-shirt and will be entered into our Grand Prize drawing.
Take new steps to a happier, more productive life. Find out more about Mind, Body & Sole 2023 at read.akronlibrary.org, or contact your local branch library for information.
Mind, Body & Sole is presented with the financial support of: